Join Us for At Gnome in Bronte!
The birds in Bronte Heritage Waterfront Park have been singing a spring song for weeks. And with this budding season upon us, we invite you to join us for At Gnome in Bronte where we've got not one, but two free, family-friendly activities that are guaranteed to put a spring in your step and maybe even a gift card in your pocket!
DISTRICT-WIDE HIDE & SEEK
Twenty gnomes have gone missing and we need your help finding them. Come to Bronte with your favourite people to shop, dine, explore – and search. Gnomes are hidden in store WINDOWS throughout the district.
Playing is as easy as 1, 2, 3!
If you discover a gnome in a store window, write down the name of the business. Hint: The gnomes are about 1.5" tall.
Find (at least) five and email communications@brontevillage.net with your list of participating businesses. You can enter up to four times with different business names.
You'll be automatically entered into a draw to win one of three $100 gift cards to a fabulous Bronte business. Winners will be contacted directly on Friday, April 14.
Do all your searching in one day or come back again and enjoy watching Bronte in bloom!
COLOUR TO WIN
You know we love our At Home in Bronte Muskoka chairs. They have trademarked our community as a place that is welcoming, accessible and vibrant – and we're inviting our youngest community members to get creative and design their own chairs in our At Gnome in Bronte: Colour to Win Contest.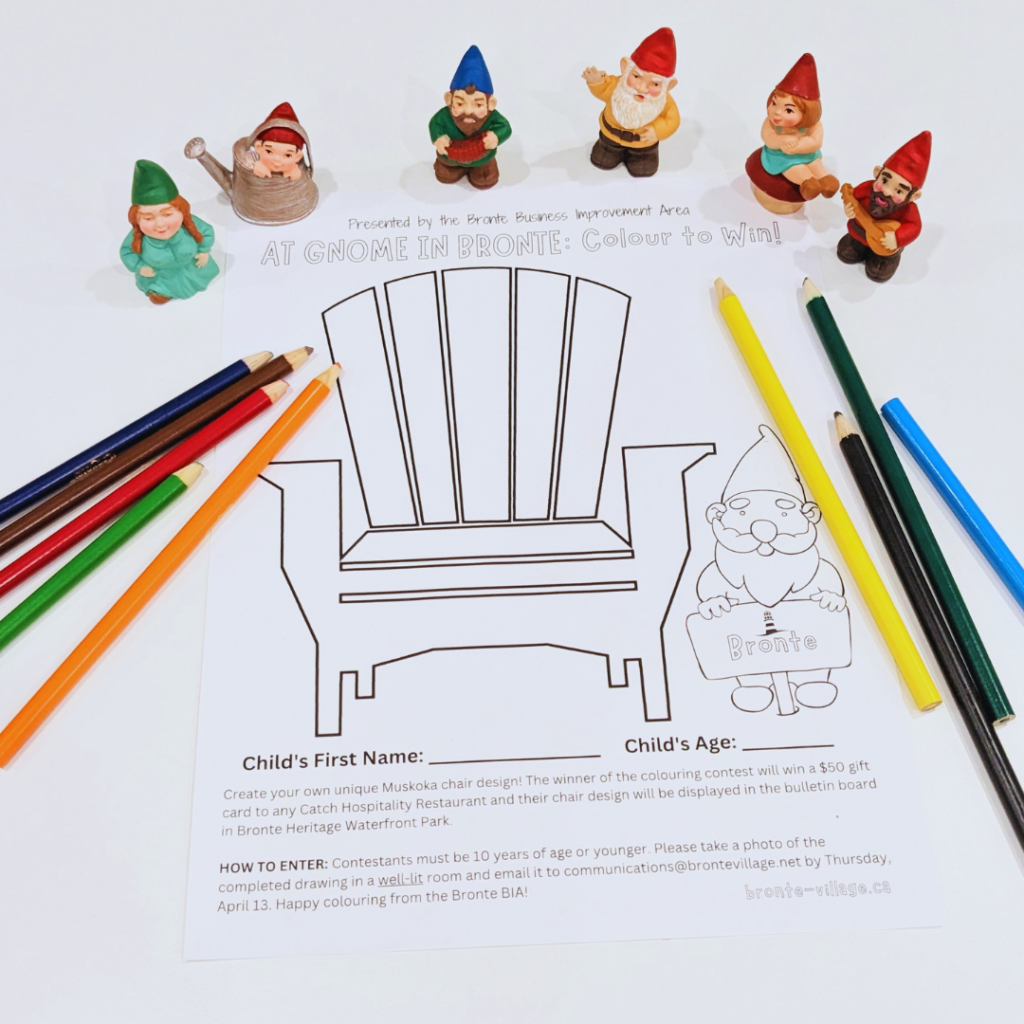 The winner will receive a $50 gift card to any Catch Hospitality restaurant and their chair design will be displayed in the bulletin board in Bronte Heritage Waterfront Park.
Contest is open to all kids ages 10 and under.
Colouring pages can be downloaded here or picked up at the following locations:
(1) Outside of the Bronte BIA Office Monday to Thursday (9am to 4pm)
(2) In the Library ON THE GO Book Bike at RBC Monday to Saturday (9:30am to 4pm)
Contest runs from Monday, March 20 to Thursday, April 13.
A picture of completed artwork can be emailed to communications@brontevillage.net. Please ensure photo is taken in a well-lit room.
Winner will be announced on Friday, April 14.
Get your markers/crayons/pencil crayons ready and join the fun. We can't wait to see you in Bronte this spring!