AT HOME IN BRONTE: WINTER EDITION
At Home in Bronte: Winter Edition is back!
In 2017, Canada turned 150 years old and Bronte celebrated the occasion by showcasing over 60 community hand-painted Muskoka chairs throughout the district. Now in its sixth year, the At Home in Bronte Muskoka chairs have become an iconic art installation that helps to kick-off the changing seasons.
Visitors are invited to explore our beautiful waterfront and surrounding businesses to check out each uniquely designed chair by local artists, including Sheridan College students. There are 100+ chairs to explore! Each art chair has a hidden lighthouse icon waiting to be discovered. Take a photo of yourself in the chairs and share @BronteEvents on Facebook and @BronteBIA on Instagram.
This program is organized and paid for by the Bronte BIA and its 175+ businesses. It is part of our effort to encourage local residents and visitors to get outdoors, get active and enjoy the colour, vibrancy and charm of Bronte.
For our upcoming At Home in Bronte: Summer Edition in 2023, we'll be looking to engage the community once again to add to our chair collection. Interested participants can be on the lookout for an announcement in early Spring.
Bronte is accessible by bike, car, local public transit and GO train. Read more about how to get here and parking before you head out. Once here, the pathways in the park and district sidewalks are wheelchair, stroller and feet-friendly. We're proud to partner with the Town of Oakville which maintains plowed pathways in the park. The washroom at Fisherman's Wharf is open and cleaned year-round.
NEWS!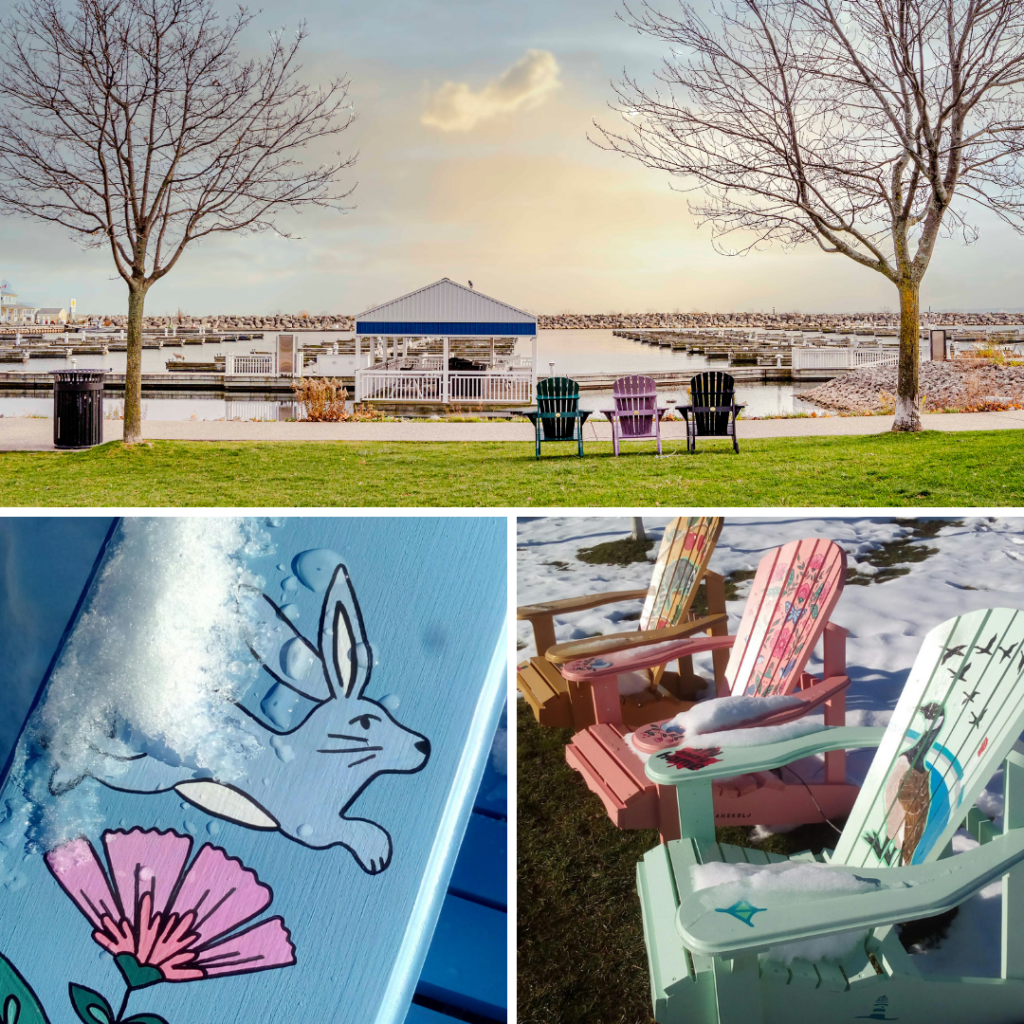 Meet the Artists
Since 2017, the At Home in Bronte project has invited local residents, businesses and community groups to come together to design and create hand painted Muskoka chairs for display in Bronte Heritage Waterfront Park.
Due to COVID-19 gathering restrictions in 2020/22, we had to change up our program and instead hired local artists to design 100 chairs in the space of their own garages, apartments and studios. In partnership with ArtHouse Halton, we connected with students from Sheridan College to add to the installation in 2022. Read the profiles of these talented artists below.