Bronte at Its Best
We are very pleased to bring you a new feature that we like to call Bronte at Its Best where we'll showcase the unique and inspirational stories behind our businesses.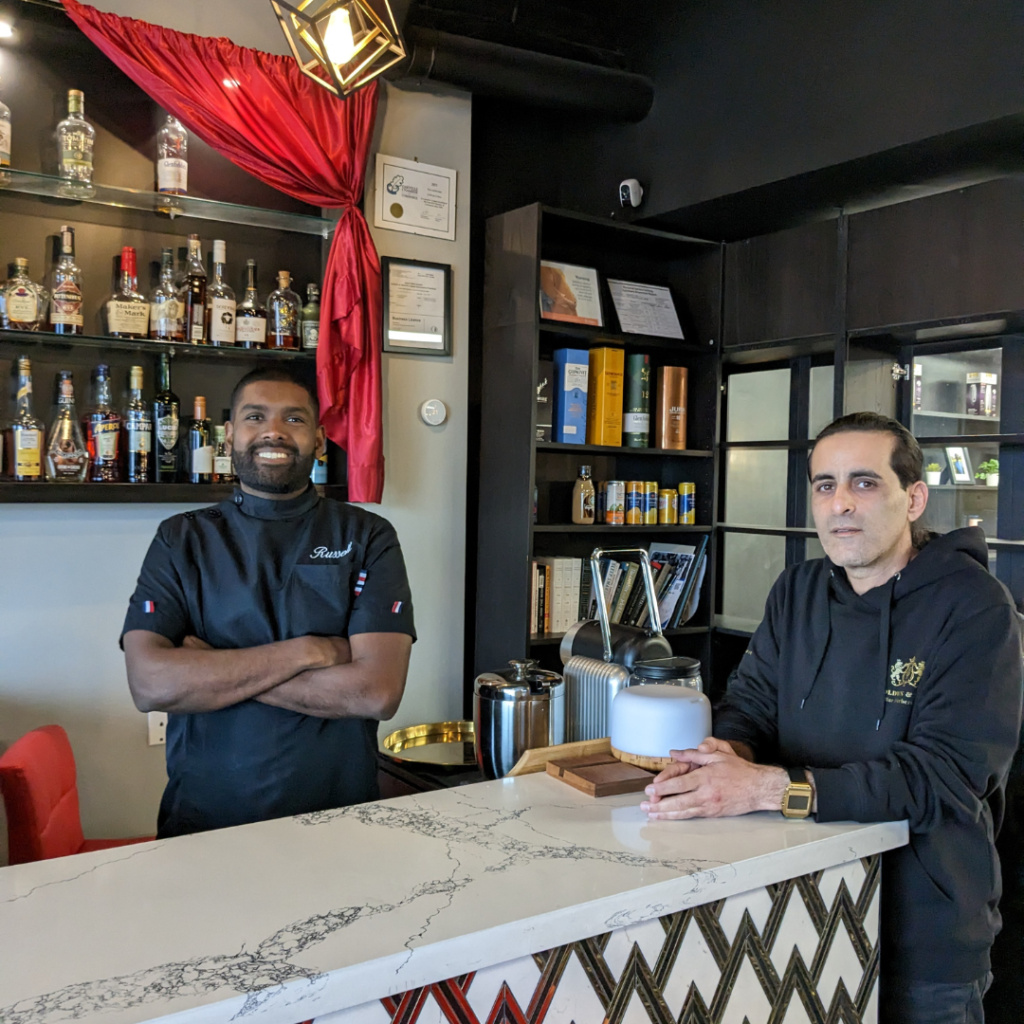 First up is Goldwyn & Sons Bar and Barbershop – where from the name alone, it's clear that this business is SO much more than a barbershop.
Remember March 2020? Well, that just happens to be the anniversary of the grand-opening of this business. The fact that the extraordinary Goldwyn Team – Ryan, Russell and Ben – not only endured, but called the next three years an "adventure" is a testament to their resolve, resourcefulness and optimism.
Located at 67 Bronte Rd, Goldwyn & Sons Bar and Barbershop provides flawless haircuts, unparalleled hospitality, great conversations about life and a licenced liquor bar to relax and get work done. This one-of-a-kind business has become a space for self-care and human connection and is renowned for creating an exceptional customer experience. Book your appointment at Goldwyn & Sons Bar and Barbershop today. We guarantee you'll become a repeat customer!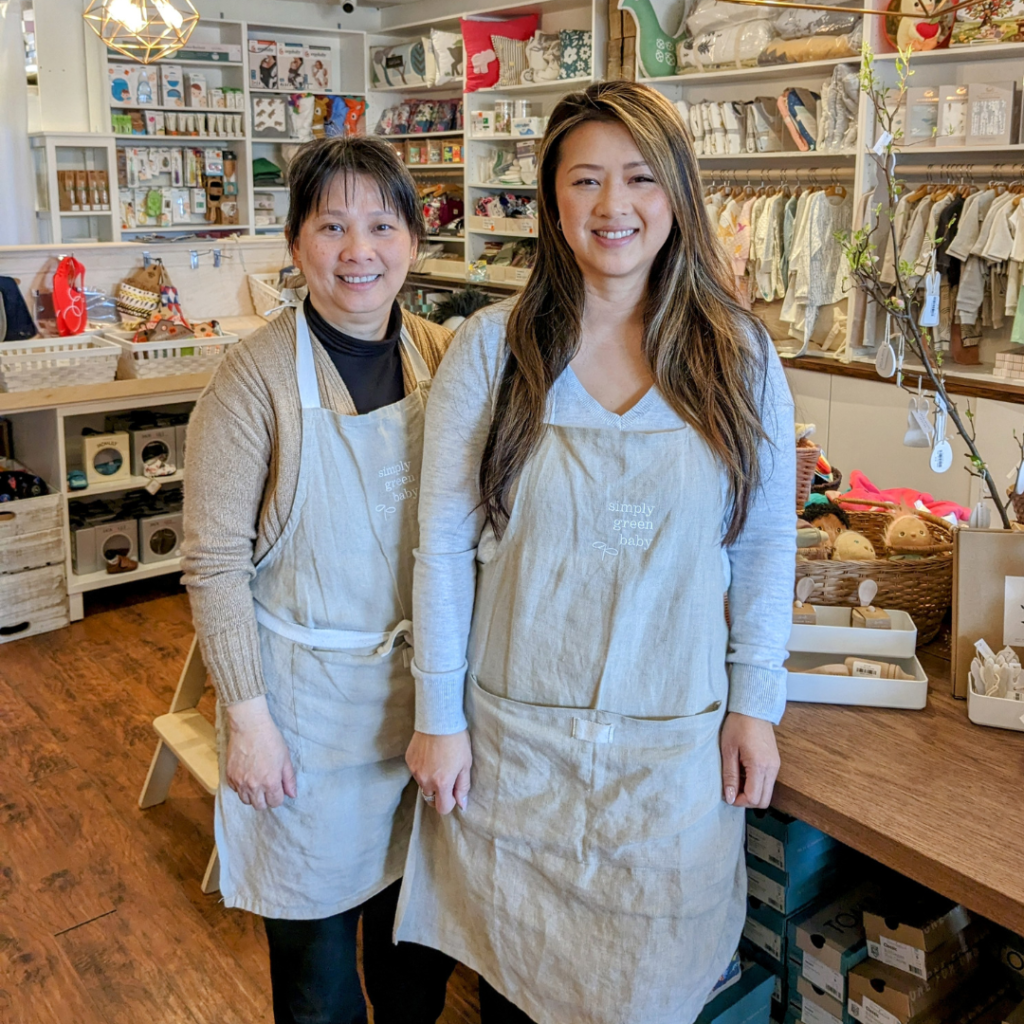 Here's the story of a beautiful children's store with a big green heart.
When you step inside Simply Green Baby, you'll feel right away that you're surrounded by products that have the best interests of kids, babies and the environment at the core of its brand.
Sisters and store owners, Liz and Ann were at the beginning of their parenting journey when they decided to open their business 13 years ago. (Ambitious, we know!) They wanted a store that could provide everything that they were looking for as new mothers: products that were safe, eco-friendly and affordable.
Toys, clothes and household products are accessible and on display throughout the shop at 67 Bronte Rd. Each product has been meticulously curated to ensure that they are eco-friendly, natural and organic – while simultaneously supporting brands from local, socially responsible manufacturers and women-owned businesses that put sustainability at the core of their operations.
When you purchase a product at Simply Green Baby, you're part of a chain of people that are working hard to make the world a better place.
Oh, and did we mention that Liz and Ann plant one tree for every $100 purchase and two trees for a purchase of $150+?
Visit today to explore their enchanting shop. You'll feel great about shopping green!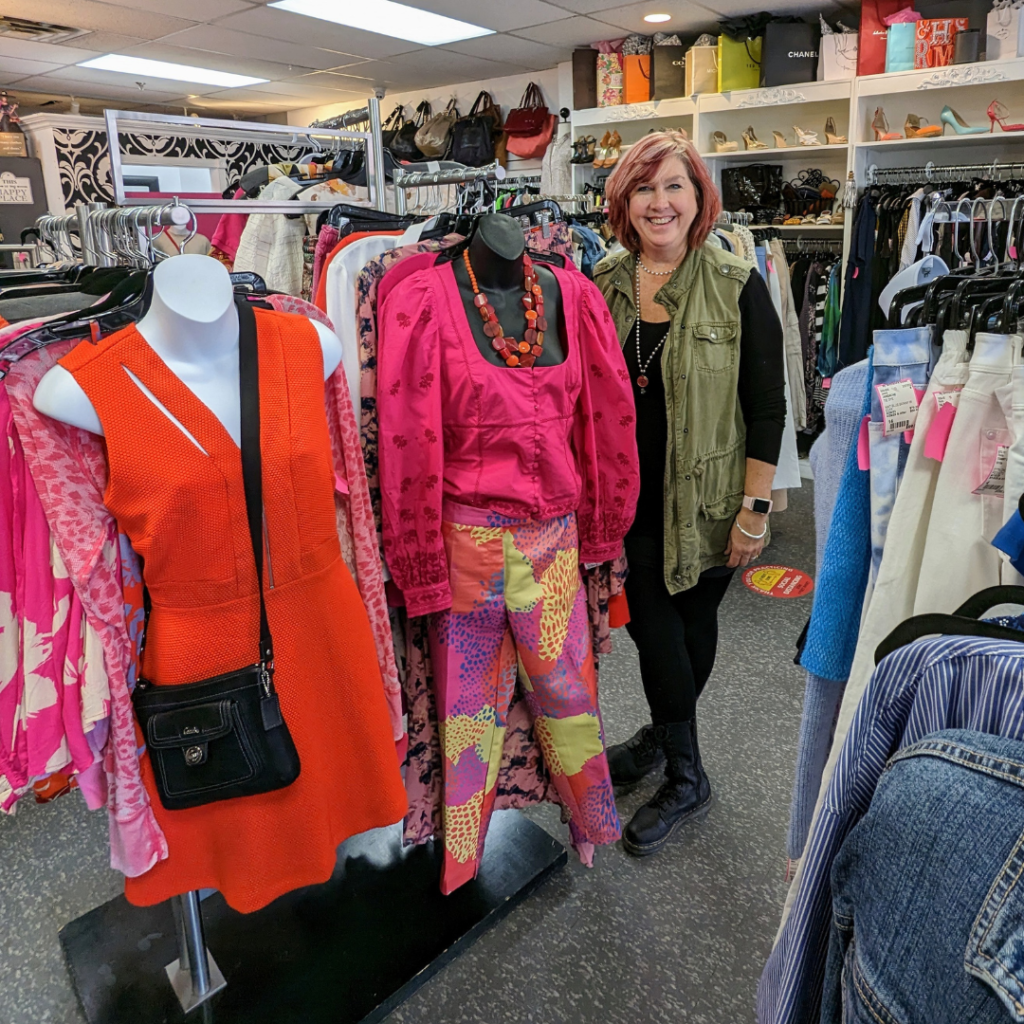 If you've ever stepped foot into My Girlfriend's Closet at 100 Bronte Rd, you know it's the epitome of one-of-a-kind.
One-of-a-kind consignment.
One-of-a-kind charm.
One-of-a-kind chic.
One-of-a-kind customer service.
Heather (pictured) took over the business six years ago. A self-described purse fanatic who loves a high-quality fashion bargain, her store offers the finest in women's gently-worn, designer and quality brand name clothing and accessories.
And, every day, but especially during Earth Month, Heather's business reminds us that pre-loved is best. Today's fast-fashion industry is the second biggest consumer of water. She works hard to shift the fashion narrative and encourages her customers to aspire to be green in a world of over-consumption. A fitting mission for someone who lives and works in a community where its past and present is defined by water.
Visit her store to check out her gorgeous clothing and meet her awesome team: Tehya, Cathy, Jana and Lynn. Fun, fabulous, earth-friendly finds arrive daily!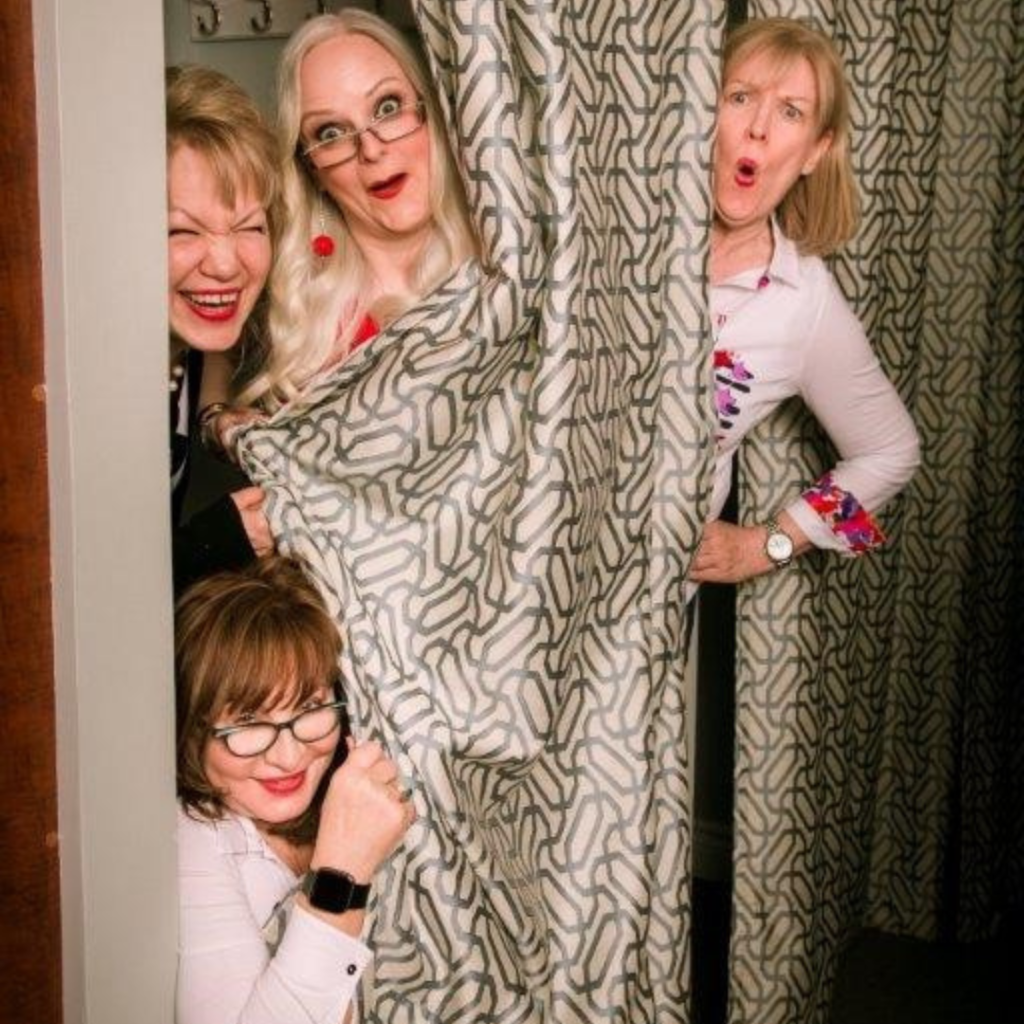 If it looks like the Good Night Good Morning team is having a blast, it's because they are. Anya, Olga, Justine and Lorna have loyal customers, years of shared hard work and friendship between them AND they happen to be celebrating 25 years in business this weekend. Extraordinary, right?
Let's put 25 years ago into perspective:
Google was founded.
Titanic won Best Picture at the Oscars.
The show Who Wants to Be a Millionaire debuted.
And, Anya, raising two young kids and recently graduating from Sheridan College, decided to bet on herself and open up her own store at 100 Bronte Rd.
She had talent – originally designing the clothing sold at her shop.
She sacrificed – biking to work for years because she put her car-fund into her business.
She had good friends – helping behind the scenes to get the store up and running.
She had a supportive husband – constructing shelving/walls/changerooms, driving her home on the days where she gave everything she had to her business – and cheering her on every step of the way.
And, she had gratitude – feeling happy to be in a space she created, even on the slow days – and appreciative of the Bronte community and her customers who supported her from the beginning.
Today, Good Night Good Morning is one of Bronte's most successful destination businesses. Selling lingerie, bras, swimwear, sleepwear, athletic wear and shapewear, they have 67 combined years of experience providing custom fittings that will ensure every customer leaves the store loving every inch of themselves.
It's our pleasure to congratulate Anya and her team on 25 years in business! Visit today and help them celebrate this milestone anniversary.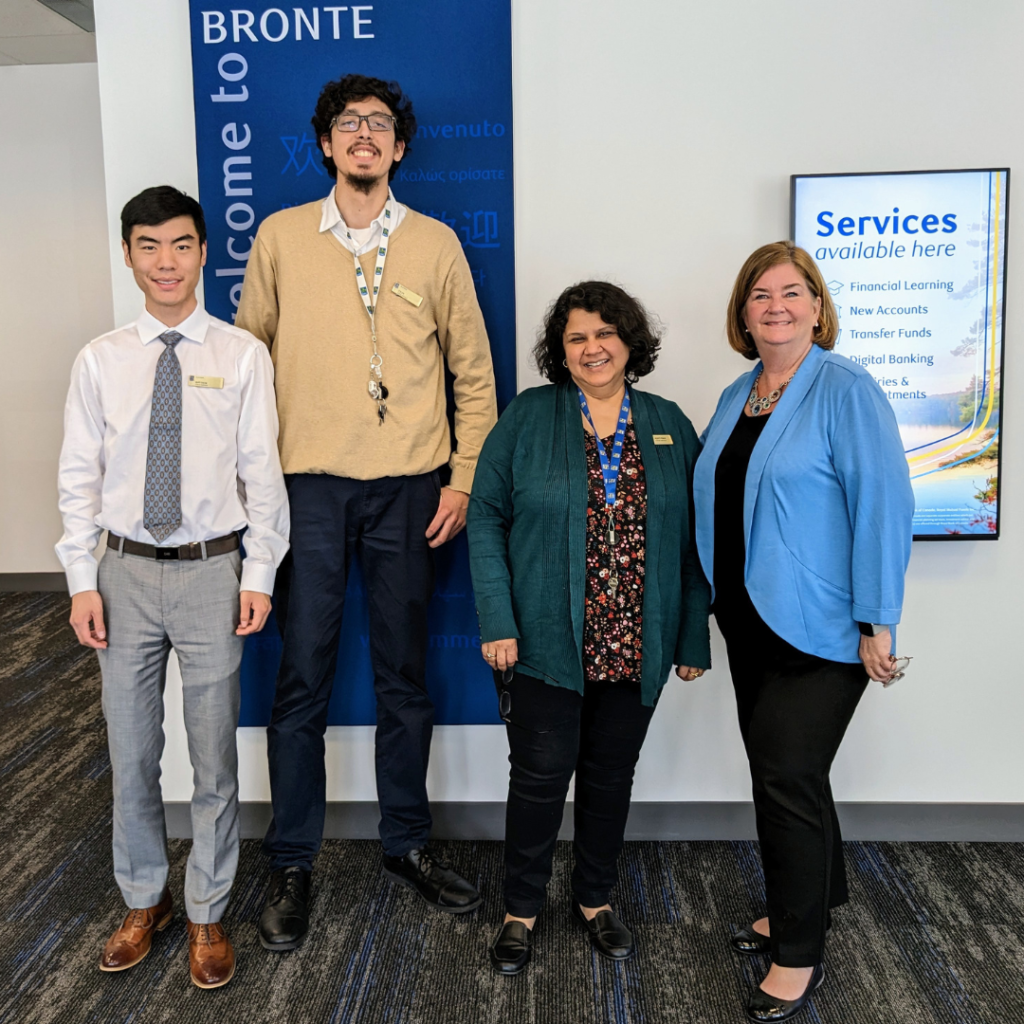 If you have the pleasure of being a client at RBC, you know that walking into the branch at 2329 Lakeshore Rd W feels like you're being greeted by old friends.
RBC is guided by the principle that it is part of something larger than itself. Promoting and celebrating inclusion and vibrancy, the people you see in this photo are motivated by the purpose of helping their clients and community prosper.
And here's how they've taken purpose and transformed it into action in Bronte:
The branch also funds a weekly summer gift card giveaway that highlights our wonderful small businesses and promotes a love of supporting local.
When the BIA needed a home for our Library ON THE GO Book Bike, RBC didn't hesitate to open their door. During the spring & summer months, they allowed us to store the bike in their branch every night – and when we needed a permanent home for the bike this past winter, they stepped up again. Fun fact: the best part of our week is book re-stocking day when we get to see our friends at RBC!
Pop-in and say hello to this hard-working and welcoming team today. We are so grateful for all the ways RBC enhances and supports our community.